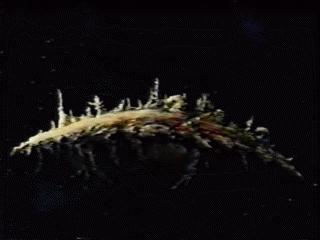 HELLO
-
HELLO
-
HELLO!!!

            My friends! My new best-beloved friends!
  
    I`m glad to embrace you! Here on planet Junkion I don`t see new 
faces very often.So you are always welcomed - not Autobots only,but 
Neutrals too.      
    My name is LIGHTNING. I used to be an Autobot,but I`m a Junkion
now. Well,it`s a long and a little sad story. I`ll tell it soon,if         
you like.
    Warning: the TF universe I live in differs a great deal from the 
world you are acquented to. So,if you are mad about canonicity and all 
that staff,you`ll better go somewhere else. My world is real,and I 
don`t care how it matches the toon history (most times it doesn`t
match it at all!).
    Warning #2: all the TF staff is a property of Hasbro Inc. But I 
don`t make money out of it,I`m just having fun!
 So,if you agree with my ways - 


---
FANFICTION!

     Here you`ll find my fanfiction. Nothing cool,just odds and ends.
If you want,you can e-mail me your own fanfic - I`ll place it here.
And,oh - please,don`t be too strict to me for my mistakes - English
is not my native language...
 
1.TWO WORLDS,ONE SOUL

2.HEY!

3.THEY SAY

4.HOW LONG?

                             
                           ***

                      TWO WORLDS,ONE SOUL
                        (HOUND`s Song)
    
           CYBERTRON.
           The World of Steel.
           Billion-facet juel,the gleaming heart of the Galaxy
           My distant Home. My Love.
           Forgive me.
           I`m a miserable oath-breaker.
           Charmed wanderer in the land of spells.
           Happy captive of the Green Song
           (I can`t resist it. It changes me.)
           The EARTH.
           I wish I never seen it,but now
           I`m merged with its green and blue.
           To live for it is an ecstasy.
           To die for it is a bitter honour.
           Its lands and seas are pure beauty.
           My eyes are eager,my memory is strong,but I know:
           I can`t take it with me.
           Pale spectre can`t substitute the warm breath of life.
           So I stay.
           I stay here forever - to fight and admire.
           Maybe the last thing I see
           will be a small white cloud in mild blue sky.
           CYBERTRON.
           My lost Home. Joy and sorrow of my youth.
           Forgive me.
           Oh,forgive me
      
                            ***

      The next poem is a sort of anthem of Crusaders - Autobot
fighters,who are motorbikes in their vehicle mode. I used to be 
one of them... (Warning again: you`l find NOTHING of this in
the toon or comics.It occures to exist in my native universe only.)

                           HEY!
           Hey! Along the straight highway,
           at the maximal speed,cleaving cool air!
           Hey! Run into the red sunrise!
           This morning is ours,we conquered it!
           Hey! Children of the Earth,
           born to protect and love it -
           the enemy flees seeng us come!
           Hey! Crusaders - steel and flame,
           Two-wheeled fighters,unstoppable courage.
           Come on! Come on! No time to tarry!
           New battle is ahead,be ready,my friends!
           Hey! Along the morning highway!.. 

                        ***

     And now a rather sad poem...Well, our war was not a merry 
festival. There on Earth we heared curses much oftener than 
ovation. And we couldn`t blame Humans for this...
      
                        THEY SAY...
                  (Optimus Prime`s Song)

           They say: "Go away! We don`t need you."
           They say: "You brought us nothing but grief."
           They say: "The day you came to the Earth is accursed."
           They say: "We don`t want to be killed in your war."
                        They say: "Go away!"
           And we can do nothing but agree.
           They are right. Oh,they are right!
           My soul is writhing with horror and shame.
           But we can`t go and leave them alone.
           We can`t leave them to slavery and death.
           Time can`t be turned,its fiery river flows forward
           And cities are burning,
           And human lives are wood chips in the flames.
                        They cry: "Go away!"
           But we can do nothing but die for them... 

                            ***

      And this song is about those of Neutrals who helped Autobots in
their struggle. It was difficult for them to make the Choice at last,
but to keep fighting was the real torture. They were born as Decepticons
and to fight ment for them to kill brothers... 

                       
                        HOW LONG?

       How long,how long
                         will this vicious circle retain me?
       No way to get free,
                           I`m a captive of howling Hell.
       In the fight I meet brother
                                   and,nearly mad of self-blaming,
       With the beams of my lasers
                                    I send him my last farewell.

       No hope I have.
                       And my will is exhausted by sorrow.
       But in one apparition
                              a strange morbid solace I found:
       Incorporeal soul is free,
                                 it is joiful like swallow,
       And the wreck of my body
                                 burns down below, on the ground.

       But my way is not over,
                               the world goes round and round.
       Bitter minute to minute
                                and murder to murder I add.
       I can`t give up my duty -
                                  to rescue the Life we are summoned -
       And I can`t stop bemoaning
                                   my brothers, the enemy`s dead.

       See the Violet Sign on the wing
                                       vailed by fire and smoke!
       Wicked foe is punished,
                               and I fly away safe and sound.
       I`m the victor again.
                             I was right in my finishing stroke,
       But the wreck of my soul
                                 burns down below, on the ground...

                     
                       

---
And now my TF links... Collect and save,collect and save!
BIGBOT.COM : Links,chat,fanfiction... That`s great!
THE SITE OF RUSSIAN TRANSFAN CLUB!(All in Russian :) )
UK Transformers comics scans: Not very bad,but not in English
TF comics guide: All about each issue (American)
Chronology of the Transformers: It`s even better than sounds!
Prowl`s UK Comic scans: Not covers or separate pages,but whole stories!!!
Cybertron Golden Age: MY LIVE-TIME CHAT!!!

---
LIGTNING
rongwis@mailcity.com
JUNKION


<!-start of code->

<!-end of code->
[ Prev 5 Chapters | Skip Prev Chapter | Prev Chapter | Next Chapter | Skip Next Chapter | Random Chapter | Bibliography]